IDS GIRONA 2018 What a fantastic day !!! 🏆🥇
REPOKER !!
TRUMAN de CAN RAYO
VP1 BEST BABY
BOG2
BIS-3 BABY!!

SOLO de CAN RAYO
VP1 BEST PUPPY
BOG2 BEST PUPPY Gr.2
RBIS PUPPY!!

MIA BLACK de CAN RAYO
EXCELENT 1 CCJ BEST JUNIOR & BOB.
Final last selection in JUNIOR FINAL !!!
RBOG2 !!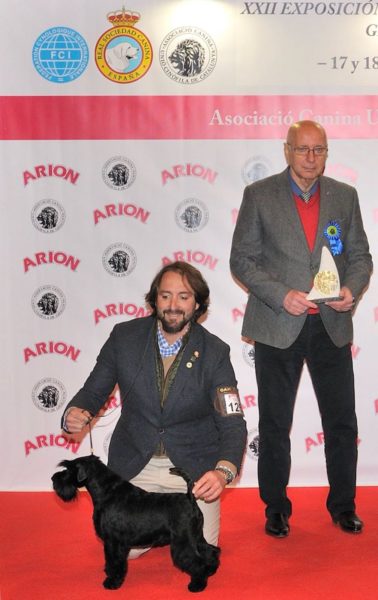 CANELA FINA de CAN RAYO
CAC-CACIB EXC1 BEST FEMALE OPEN CLASS
3rd consecutive year winning the CAC-CACIB in this show !!!
DREAMER de CAN RAYO
CAC-CACIB EXC1 BOS BEST MALE OPEN CLASS
Owner: Carina Conde
TRUMAN – SOLO – MIA BLACK & CANELA FINA de CAN RAYO
All them from four different litters
BEST BREDING GROUP-2 !!!

We want to thanks all jugdes involved Mr. Giorgiy Onishchenko (UA), Stelios Makaritis (GR), Denis Kuzelj (SI) & Vicenç Cano (ES)
Also thanks to Olga to help us & Carina and all friends who come to support us!
We are very satisfied and proud of all of our CAN RAYO dogs and happy to see the reward to the effort made each day.
It was unbelieveable showing 5 dogs bred at home, achieving 2 BIS podiums and a Group 2 podium and getting BOB in every class!
THANKS EVERYBODY!